Fire and Smoke Restoration for Residential and Commercial Properties
Fire Damage Restoration Services
We understand how devastating a fire can be, which is why we handle all of the details for you, including working with your insurance company.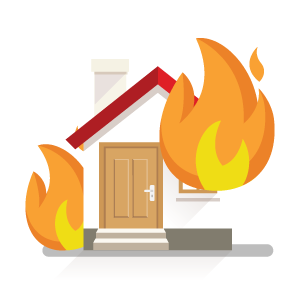 Dry IT provides free estimates and is equipped to handle any job, big or small, commercial or residential.
Dry IT offers affordable fire damage restoration services by trained professionals. When we arrive on the at your home or business, our fire damage restoration technicians will clean up hazardous debris and remove unpleasant smoke odors. Our skilled reconstruction team will then rebuild your damaged home and work quickly to return your property, and your life, back to normal. Our guarantee to you is to restore your property to its pre-disaster state, if not better.
Smoke Damage Restoration Services
Smoke damage cleaning, whether it is ash and odor from a fire, or stains from cigarette smoke. Dry IT holds the Institute of Inspection Cleaning and Restoration Certification (IICRC Certified) for our disaster restoration services, including smoke damage restoration.
Our smoke damage restoration professionals are on-call 24/7 to remove smoke odors, clean soot residue, and repair fire-damaged materials. If your home has suffered fire and smoke damage, contact us now for a smoke damage quote.
Kitchen Fire Restoration
Did you have a cooking fire that got out of control? After the flames are extinguished, call Dry IT for kitchen fire damage repair services.
When a cooking fire burns in your kitchen, it can damage your counter tops and cabinets, and coat your walls with soot.
Our trained fire damage restoration crews will remove the smoke odors and reconstruct your damaged kitchen.
Call us anytime, we're always available.